After the last few years, it's been amazing to see just how much we do virtually that we used to do in person. Remote and hybrid working absolutely skyrocketed. And even little everyday things have changed. Everything from buying groceries to workout classes has transitioned into virtual experiences. More than ever, we are all about living digital.
So you may be wondering… Are events still relevant in marketing today?
As an agency, we take many calls remotely, but whenever we can get clients in-person, we do. Simply because there's no better way to connect and get a true sense of who we are as a company and as people. And maybe that's why events have lasted, even with the times and technology.
During COVID, events took a serious hit. But they came back swinging because of the incredible value they bring both businesses and individuals. According to PCMA, business events add over $1 trillion to the global economy annually. And an Inc. survey found nearly 80% of US marketers use events to boost sales.
So yes, events are still relevant today. In fact, they are growing more and more popular! Simply because people value face-to-face interactions, learning, and networking. So if you haven't used events yet in your marketing strategy, it may be time to change that up!
What Types of Events Are There?
As a business, you have so many event options at your disposal. They all have their time and place, depending on your goals. If you would like to build team culture, then company anniversary or holiday parties are a great idea. If you're looking to close more deals, you might consider campaign-specific events or product launch parties to promote what's coming up for the company. Some events can have a mix of benefits, like a charity event giving you the opportunity to give back to the community while building brand awareness.  
Here's just a few examples of event types:
Campaign-specific events
Charity events
Conferences
Company anniversary parties
Holiday parties
Launch parties
Networking events
Open houses
Product launches
Pitch events
Trade shows
3 Top Benefits of Event Marketing
1) Event Marketing and Brand Awareness
Brand awareness basically means when your target audience hears your brand name, they recognize you, know what you stand for, and immediately think of you when they need your type of products or services. 
As a creative communications agency, we basically are all about brand awareness. We've found there's something incredibly powerful about building a loyal fanbase and being connected to your local community. Consumers are much more likely to buy from you and continue to buy from you if they feel connected to you in some way.
But in a world saturated with marketing messages, you have to work overtime to catch a consumer's attention. And since so many interactions are digital nowadays, it's even harder to be heard through all the noise. Everywhere you go, there's ads, social media posts, or videos from competitors. That's where events are a breath of fresh air. They break through the technology barrier. Events offer a unique space to connect with consumers by creating an immersive experience. 
Example of a Brand Awareness Event
A great way to build brand awareness is through brand or product launch parties. These events offer the perfect platform for you to tell your brand story, build excitement, and leave a memorable mark on attendees.
Successful brand or product launch parties capture the essence of the brand, weaving it seamlessly into every aspect of the event – from the décor to the speeches to the carefully curated guest list. The event becomes a catalyst for brand recognition and a springboard for conversation, both online and offline.
In the early days of Tuuti, we hosted a launch party at our brand new office with over 200 attendees. Before the launch party, we sent targeted invites to local businesses and individuals who fit our potential client list. At our event, we had branded decor, food from local vendors, and a giveaway to encourage interactions with attendees. During the event, Shawnda Huffman, our CEO, had the opportunity to share the Tuuti story, our services, and more to build a relationship with the attendees.
We also coordinated our launch party with a billboard campaign and social media for a big brand awareness push. And it worked — we became well-known in the Boise, Idaho area within our first month of operation! Our own launch is a great success story of what a launch or product event can do for you. It's all about building brand awareness and creating lasting connections with potential consumers or clients. Trust me, it all pays off in the end when you're closing deals! 
2) Event Marketing, Culture, and Community Connection 
Now, let's talk about the heart of events — culture and community. Events aren't only about marketing and brand buzz; they're about forging genuine, lasting relationships with your team members and your community. 
Culture may not put any money in your pockets, but it goes a long way for team member retention and a company's success. Brands with failing culture never make it big. Simply because they can't keep talent or connect with their audience in genuine ways.
The numbers speak for themselves! A recent survey by TeamStage found almost half of all job seekers look for positive team culture. And for current team members, culture and being "highly engaged" can lead to a 202% increase in performance.
So how can you build culture through events? Holiday parties and other company-wide celebrations help team members feel connected to an organization. On the smaller end, you can organize team building activities and department-level celebrations. I recommend allotting a budget for team events, so culture never slips through the cracks.
Another big part of culture is your core values as a company. Team members want to work for a company that practices what it preaches. Finding ways to give back to your local community in ways that align with your core values builds company culture while also building community relationships.
If you want to be well-known and recognized in your local community, attending and hosting community events is a must. This supports brand visibility but it's also amazing how many people you meet by being active in the community. We've made so many meaningful connections and closed deals just by participating in local events.
Example of a Community Charity Event
As part of our services, we are an event marketing agency. One of the events I managed recently was for our local Meridian Chamber of Commerce. They hosted their 21st Annual Meridian Chamber Golf Tournament to raise money to support the Chamber in events like leadership programs, networking events, committee development work, and more. 
This event was a great success, partially because of the community involvement with local businesses. The golf tourney had over 25 onsite sponsors, and many more contributed through raffle baskets, monetary donations, and so on. The sponsors were able to give back, while also making new connections with others in the community.
Lots went into the planning and execution of the tournament. Along with managing the day of, I handled the communication and coordination with 150 golfers, 20 volunteers, raffle basket donors, and all sponsors. For everything to run smoothly, I started this process 3 months leading up to the event. When event planning, you need to give yourself enough time to communicate to guests, coordinate vendors, and facilitate community giveback opportunities.
During this process, I also brainstormed new ways to raise money for the event. I introduced engaging fundraising games, executed the raffle, and created upsell opportunities for golfers. And to capture the essence of the event, we also brought in an onsite photographer who provided the Chamber with high-quality photos and videos post-event to promote next year's tournament. All of this together worked to create a community event that successfully raised almost $65,000 dollars to support the Chamber. 
3) Event Marketing, Networking, and Lead Gen  
Networking is the name of the game for many industries. Have you ever tried networking online? It's not even close to the same. So it comes as no surprise that people take advantage of the in-person interactions through events. According to SpeakerHub, 8 in 10 participants say networking is their number one priority when attending events.
Going hand-in-hand with networking is lead generation. Some of the best ways to get hot leads is through attending conferences, trade shows, and other events — particularly ones in your specific industry. This is where many companies see ROI for events, if sales is their main goal.
Word-of-mouth marketing also comes into play here. Sometimes, you meet people who connect you with the right person to close a deal. That's just how networking goes. It's often a ripple effect. You meet the right person, and it triggers more meaningful conversations down the road.
While attending networking events is great, hosting networking events can also mean you guide the invite list, topics of discussion, format, location, and more. It basically gives you more control to lead the conversations where you want them. That's why so many companies invest money in hosting large-scale events. It brings the right people to them that they otherwise could only market to through phone calls and emails. Events are a much more personal and direct way to sell and market to your target audience.
Example of a Networking Event
As an agency, we had the opportunity to launch a creative campaign for one of our clients, SOLV, called "Say Thanks with SOLV." In this campaign, SOLV took nominations from local businesses for standout team members. Winners received swag baskets — designed and printed by SOLV — and one lucky winner also won a downtown Boise staycation. We used a variety of marketing tactics to promote the campaign, including direct mailers, landing page, social media, radio, targeted outreach, and video.
This campaign was an excellent way to give back to the community while highlighting SOLV's own rich culture. But SOLV took it a step further by incorporating the campaign into their annual Connections networking event. The Connections event was created with the idea to help professionals strengthen their business relationships through gifts and sincere gratitude. This year, attendees had the chance to nominate their coworkers, making this event not only a day of connection but also a day of gratitude.
There were over 20 vendors onsite at the event, and over 150 people in attendance. SOLV also incorporated a keynote speaker — a great addition to any networking event since it encourages discussions and attracts professionals to attend. The keynote speaker provided collaborative elements, which always adds to the networking event experience.
Then, of course, the feedback element comes into play. You want to know what to do differently and what to keep for next time, since networking events are often repeated since they are smaller scale events. After the Connections event, attendees were encouraged to fill out a survey with feedback of the speaker, networking aspects, and the event itself.
For these sorts of events, it's all about people and collaboration. That's why including the culture campaign element to the Connections event worked out perfectly. It aligns with the purpose of the event and targets the right audience.
Event Planning Checklist 
Lots goes into event planning and there's typically three stages: pre-event planning, on-site execution, and post-event evaluation. Below, I provided a checklist to make your own list while you're planning. No event is the same, but here's also some ideas of the various tasks you will want to check off:
Pre-Event Planning Checklist:
Define event goals and objectives
Create an event budget
Define a date/time and venue
Create an event timeline/agenda
Secure necessary building permits/insurance
Create guest list and outreach/communication strategy to attendees
Create event promotion and marketing materials

Business cards
Brochures
Discounts
Invites
QR codes to website

Secure catering (food and beverage)
Plan event decor/design of the event
Coordinate vendors (canopy, chairs/tables, entertainment, furniture, sound systems, etc.)
Coordinate a plan with volunteers
Event venue walk through with relevant vendors, sponsors, volunteers, and team members
Hire a security team if needed
Hire a photographer/videographer to capture the night
Create an event activity if needed
Make swag bags or goodie bags
Manage sponsorships
Create raffles and/or a giveaway
Oversee event software setup and management
On-Site Event Checklist:
Final event walk-through with relevant people
Set up registration/check in table
Monitor guest arrivals and registration (with event software if needed)
Set up all event materials, decor design, and food and beverage
Set up/test all audio and visual needs
Help sponsors and vendors set up in the correct area
Create an event schedule/program if needed
Manage event entertainment or activity (conduct raffle/giveaway)
Post-Event Checklist:
Send out event feedback form
Complete financial budget analysis
Send thank-you notes/emails to attendees if they did not get one at the event
Review overall success of event with team
This is only the start of what you'll need when planning and managing an event. As you go along, you will find more tasks related to your unique event case. Most importantly during this process, stay organized and keep track of everything. Here's a checklist template you can download if you want to begin with writing everything down.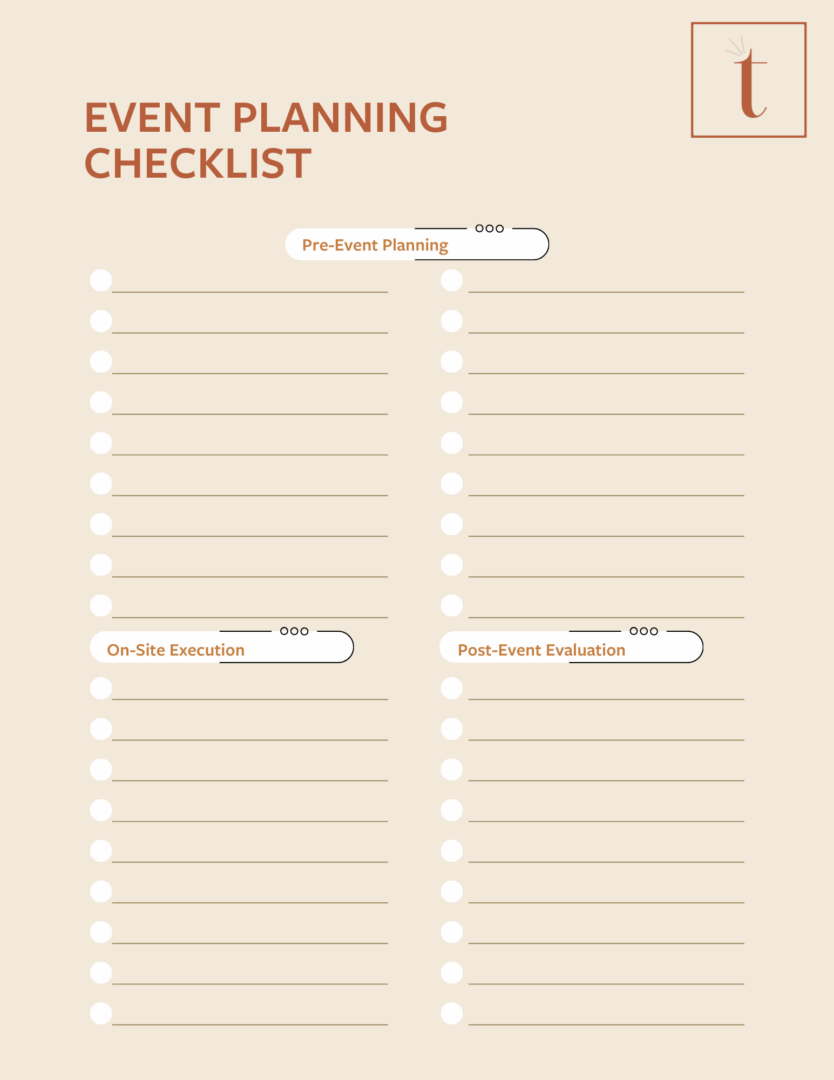 Wishing you the best of luck with your next event, from the Tuuti Team!
Need help planning an event or initiative? We'd be happy to take your next event off your plate. Reach out to us for more information!